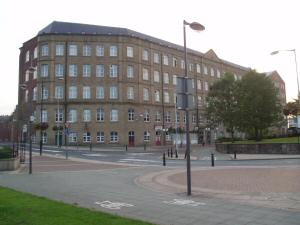 The Bullough money, which paid for Kinloch Castle, was made from the manufacture of heavy equipment for use in the textile industry. The family firm, Howard & Bullough Ltd. of the Globe Works, Accrington, Lancashire, employed over six thousand people at its zenith. The picture on the right shows the remains of the works as it was in 2005. In the 1920's the Company made many gifts to the local community in Lancashire including its cricket ground and six court tennis complex.
Sir George was Master of the Ledbury Hunt for many years until succeeded by his brother, John "Ion" Bullough. Both had homes in Warwickshire.
The Bulloughs had an association with Newmarket which spanned over fifty years. In 1928 they had a house, Warren Hill, built in the town. Following the death of Sir George in 1939, Lady Bullough lived there until her own death in 1967 at the grand age of 98 years. Sir George Bullough was an early and long term, (1920-1939), supporter of Jack Jarvis (later Sir Jack Jarvis). Jack was an up and coming trainer at Park Lodge Stable, Newmarket when Sir George entered his running horses into his care. "Golden Myth" winner of the Ascot Gold Cup and Ascot Gold Vase in 1922 (a record) was trained at Park Lodge. For a short period Sir George also used Newmarket trainers H. C. Leader (who trained Lady Bullough's horses) and Frank Butters.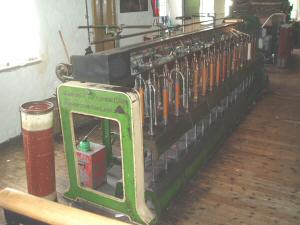 Mr. Tom Bullough, Sir George's Uncle and Chairman of Howard & Bullough until succeeded by Sir George, had long associations with Oban. He gifted his home which overlooked Oban Bay, Benvillin House, to the county of Argyll in 1909 to be used as a local sanatorium for the treatment of hundreds of patients suffering from pulmonary tuberculosis. This was long before such facilities were widely available.
The picture on the left shows some Howard & Bullough equipment still functioning in Quarry Bank Mill at Styal near Manchester Airport in England. This is part of a demonstration of cotton machinery by The National Trust (England, wales and Northern Ireland).